Embodiment
"Espiritu I (Anicca)"
Charocoal and enamel on paper
22 x 30"
2014
"Espiritu II"
Charocoal and enamel on paper
22 x 30"
2014
"Espiritu III"
Charocoal and enamel on paper
22 x 30"
2014


I explore the concept of embodiment and a second identity through the masks in my work. They are a tool for self-exploration, an outlet for expression and understanding. In Andean culture, the wearing of masks is used to transform the wearer into a different being, blurring the boundaries of their personal identity in order to embody the "other". They help traverse the concept of duality, representing two separate yet intertwined entities. With them, I can access both my own identity and the "other", connecting with my past, present, and future. The work allows me to form narratives, providing insight into embodiment, duality, and transformation. Through exploring the self and the "other", it is possible to gain a better understanding of myself and my past. These works also explore the idea of change, representing my inner journey. Through this process, I can delve into the complexities of the psyche, identity, and culture. Ultimately, the masks serve to explore the idea of transformation, giving me a deeper understanding of the world around me.




"Espiritu III"
Fabric, foam, spray enamel, xerox print, nails
10 x 6 x 6"
2014
"Black, white, & gold (applied)"
Spray enamel on paper
25 x 32"
2014
"Espiritu III"
Fabric, foam, spray enamel, weave
20 x 9 x 6"
2014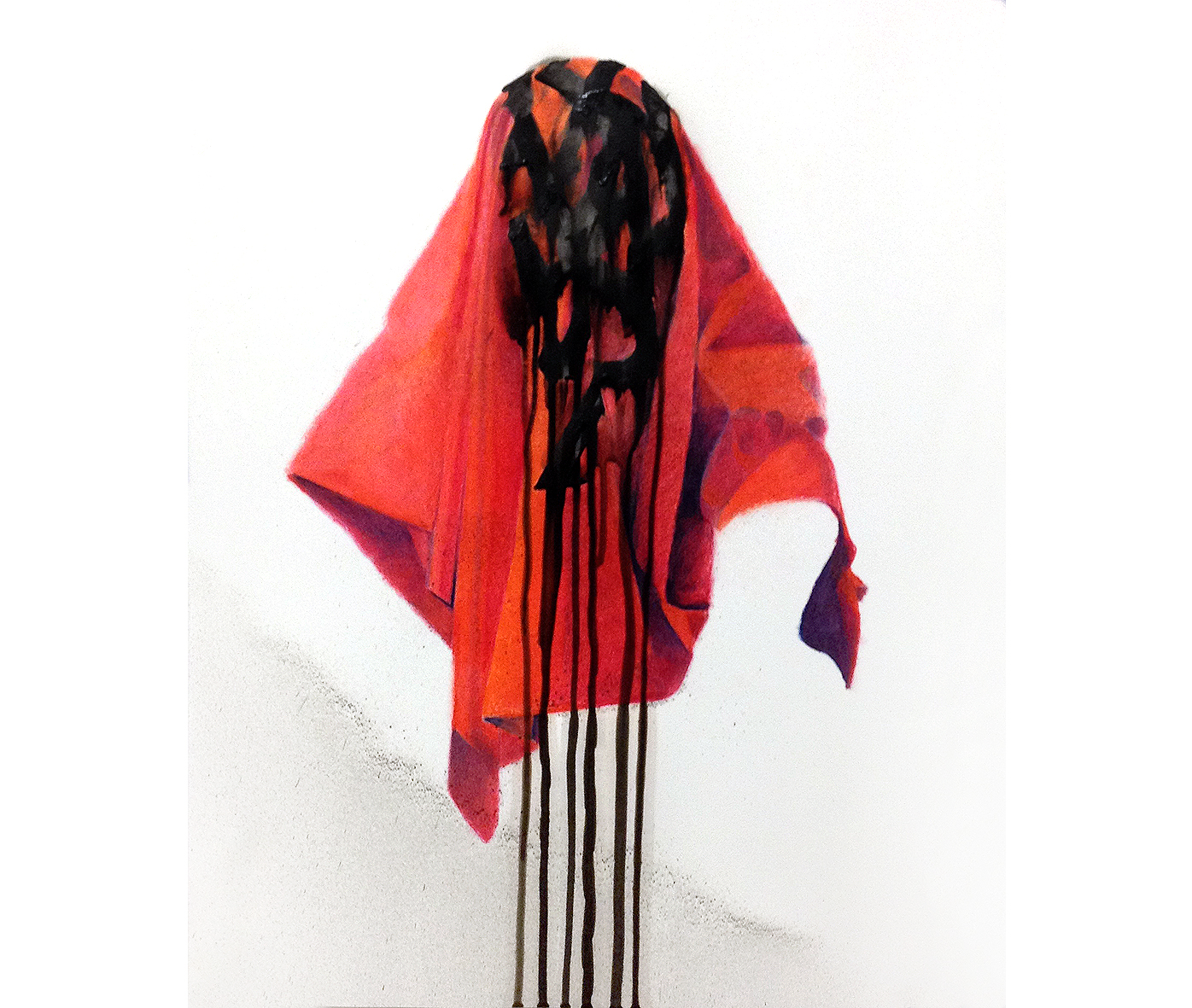 "Kawsay"
Oil pastel and spray enamel on paper
22 x 30"
2015



Kawsay is the Quechua word meaning; Life force, energy that animates the universe: it comes from the "collective", genetics and spiritual energy. Much like Ki, kawsay permeates all things in the universe. Red in the Inca empire and in Quechua culture stands for the earth and human beings. The illustration captures a moment from a performance piece "...". In this performance, I maneuver a piece of fabric with silkscreened black lettering reading "Kawsay" over my head, obscuring my face. With my arms, I gently manipulate the fabric until it sits in the right place. Through this gesture, I am obscuring my identity while embodying that of the cloth.